Use this Ayurveda guide to build your motivation and have a healthy Spring!
Spring confuses our bodies.
On the one hand, it's getting warmer and lighter out, the flowers are blooming, plants are sprouting, and we're getting ready to get out of hibernation.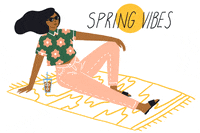 But on the other hand, it's wet and yucky,  we get freak snow storms, and it seems like everyone has a cold.
According to Ayurveda, Spring is ruled by Kapha.