Use this Ayurveda guide to build your motivation and have a healthy Spring!
Spring confuses our bodies.
On the one hand, it's getting warmer and lighter out, the flowers are blooming, plants are sprouting, and we're getting ready to get out of hibernation.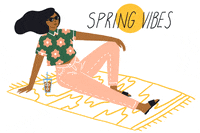 But on the other hand, it's wet and yucky,  we get freak snow storms, and it seems like everyone has a cold.
According to Ayurveda, Spring is ruled by Kapha.
It's heavy, wet, and soft. It's the rain and the mud. But it's also that social energy that makes us want to get out of our houses and see people again.
Our job in Spring is to work through the dark and the mud in order to get to the social, beautiful, flower-filled spring.
Today, I wanted to share a few ways to reduce the downward forces of kapha, so that you can build great energy to carry you into an awesome Spring.
Here are some tips from Ayurveda to help you have a happy, healthy spring.
The perfect Spring diet:
Less sweets. We're trying to get out of the dark and the mud, and so it's best to avoid heavy foods and sugar. Curb the carb cravings and skip the cookies, so that you have the energy to travel towards the light.
Start working in raw salads. I particularly love herb-rich salads for Spring. Parlsey, cilantro, basil, rosemary, these strong, light, flavors will keep you feeling energized and motivated to move forward. One of my favorite herb salads that's light and good for spring is my Kale, Parsley, and Bulgar Salad recipe. It's light, refreshing, and flavorful. Perfect to take to lunch or to serve at brunch!
Spring Exercise:
Get active! Kapha's downward energy might make you want to sit on the couch all day, but it's time to fight that urge and get moving. Hit up that vigorous yoga or workout class you've been meaning to try. It's time to burn off all that pent up energy and get moving!
Get outside! Especially if it's a little sunny or warm, get yourself outside so you can feel that sunshine on your skin. As soon as you'll leave the house, you'll remember why it's such a nice thing to do, and it can truly turn your energy around.
Spring Self-Care:
You might want to stay home. I hear you. But I'm going to invite you to set up some fun times with friends. Take a walk, get a coffee, go to a museum….keep it simple! It'll take a lot of energy to get out there, but once you do, the social kapha energy will take over and you'll enjoy it. See old friends that make you smile, and just get in some good quality time.
Keep it light. This is a great time to do that ol' spring cleaning, donate things to charity, and make your life less "full".  Some of those old things are weighing you down.
Spring Motivation in a healthy, convenient package:
I made Motivation to help us beat the mud and get to the light faster. Motivation is a high-protein, plant-based, organic, and gluten free trail mix. Here's what's inside:
Pumpkin seeds: Pumpkin seeds are full of healthy unsaturated fat and are lighter than other nuts and seeds, so they don't weigh you down.
Roasted chickpeas: These crunchy chickpeas give you protein and fiber to power all of your spring-time activity!
Dried cranberries: Cranberries are tart and sour – not too sweet. They wake up your tastebuds and get you excited for spring and summer's fruits!
Cayenne Pepper: A hint of cayenne pepper (not too much!) clear out your sinuses, wake you up, and get your ready to get into action. It's a kick in the butt that you need to get moving!
You can pick up your own Motivation here!
Which of these tips are you going to apply so you can have an awesome Spring? Leave your thoughts on in the comments below!
Thanks for reading, and have a wonderful day,
---
Samantha Attard, PhD, is the founder of Happy Healthy Human. Sam is a
performance coach
and
yoga instructor
who helps people eat, move, and live with intention. Learn more
here
.
---